Farming With The Wild Archive
INSECTARIES
Insectaries provide multiple benefits to a farm. Benefits include habitat for beneficial insects which reduce the need for pest control and pollination services to crops by increasing the numbers of bees, beetles, flies and ants that pollinate plants. While insectaries don't have to consist of native plants we have chosen to use only site-specific natives as they encourage the native insects and require less water and maintenance.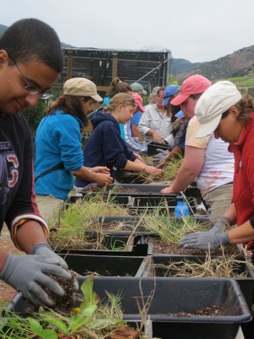 Among the many species we have planted are:
Ascelpias fasciculatum – the native milkweed critical for the Monarch butterfly's life cycle
Encelia californica – coastal sunflower hosts many insects including common ladybird beetles, Hippodamia convergens who eats aphids as well as nectar and pollen.
Solanum douglasii, nightshade is a hardy host to many insect species.
Lonicera subspicata var subspicata
Isocoma menziesii, Menzies' goldenbush
Hazardia squarrosa, saw toothed goldenbush
Sisyrinchium bellum, blue eyed grass
These programs, methods and practices are some of the viable future solutions we intend to incorporate into the expanding Growing Solutions lexicon of classes and workshops taught at Santa Barbara garden sites and on our own eco-farm.